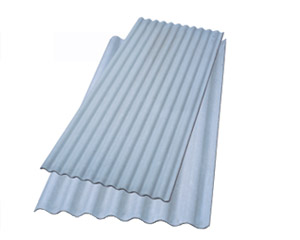 Overview
UBE's Large Corrugated Slate-n retains a high level of strength and is suitable for use on both roofs and walls. UBE's Small Corrugated Slate-n emphasizes sharp lines and is incombustible building material for use on walls only. Use these corrugated slates on the roofs and exterior walls of every kind of building, including factories, warehouses, barns, platform roofs, and others.
This incombustible building material is 100% free of asbestos.
Extremely durable and weatherproof.
Highly resistant to corrosion and water.
Light and strong, one-third to one-half the weight of cement or Japanese roofing tiles.
Easy workability reduces construction schedules.
Product Name/Size


Specifications
Type
 
Length (mm)
Width (mm)
Thickness (mm)
Tolerance of Length and Width (mm)
Mass (kg)
Depth of Grooves (mm)
Pitch (mm)
Number of Ridges
Large Corrugated Slate-n
LC-N6
1820
950
6.3±0.6
±5
24
35 or More
130
7.5
LC-N7
2120
28
LC-N8
2420
32
Small Corrugated Slate-n
SC-N6
1820
720
6.3±0.6
15
15 or More
63.5
11.5
SC-N7
2120
18
SC-N8
2420
20
Performance
Type
Bending Fracture Load N (kgf)
Impact Height (cm)
Water Absorption (%)
Permeability Test
Remarks
Large Corrugated Slate-n
3,920 (400) or Higher
120
28 or Lower
Passed
Based on JIS A5430 testing method
Small Corrugated Slate-n
1,470 (150) or Higher
120
28 or Lower
Passed
SDS
in preparation