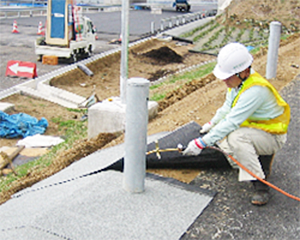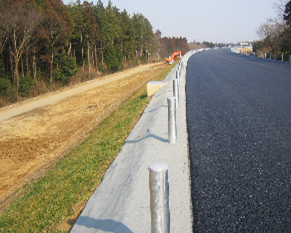 Overview
Astector-U vegetation prevention sheets are 3 mm high-performance weed-proofing sheets made of improved asphalt. In addition to penetration resistance, these sheets also offer excellent light-blocking performance and durability. They provide an extremely powerful vegetation prevention effect for use on the surfaces of streets, tracks, and elsewhere.
Comprised of a two-layer structure with a backing film and a sheet substrate (special PET nonwoven fabric), it provides outstanding penetration resistance that prevents the sprouting of plants.
This is an improved asphalt sheet with a light-shielding rate of 100%.
It offers the excellent durability and weather resistance of an improved asphalt sheet.
Either a heat fusion bonding method with a torch or a tape-based cold self-bonding method may be selected.
Product Name/Packaging
NSB30M
(Mineral sand on all surfaces)
3 mm thick × 1,000 mm wide × 10 m long/sheet
30 kg weight per roll
FSB30M
(With ear part mold release film)
3 mm thick × 1,000 mm wide × 10 m long/sheet
30 kg weight per roll
GSB30MW
(With film ear part for use in fusion)
3 mm thick × 1,100 mm wide × 10 m long/sheet
33 kg weight per roll