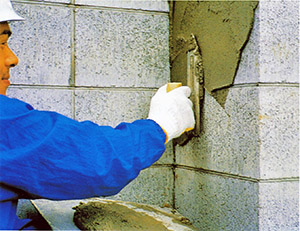 Overview
This premixed mortar is used to thinly coat concrete skeletons and block surfaces, and to repair the joint parts of U-grooves and other areas.
A special calcined aggregate is mixed ideally with a special admixture and other ingredients to yield a surface with few cracks.
A special admixture and work improving agents provide stable adhesive strength with excellent workability, greatly improving efficiency.
Product Line
Repair Mortar
Packaging
Paper bag containing 25 kg