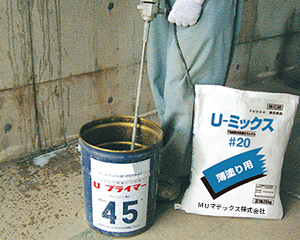 Overview
This is repair mortar for conditioning the substrate of a concrete skeleton using previously compounded plaster.
Optimal mixtures of cement, aggregates, admixtures, and so on are offered for each application, and quality is dependable because these are preexisting compounds.
The mixture of this high-performance premixed mortar was determined according to the construction-compliant material standards of the Japanese Industrial Standards (JIS) and the Housing and Urban Development Corporation.
Work efficiency is outstanding because the material is easy to spread with a trowel.
U-Mix W (Wide) is a universal type of material that can be used for a wide range of repair work, from thick application to precision surface finishing.
Product Line/Packaging
| | |
| --- | --- |
| #10 (for squeezing) | Paper bag containing 25 kg |
| #20 (for thin application) | Paper bag containing 25 kg |
| #30 (for thick or thin application) | Paper bag containing 25 kg |
| W (Wide) (for thick or thin application) | Paper bag containing 25 kg |