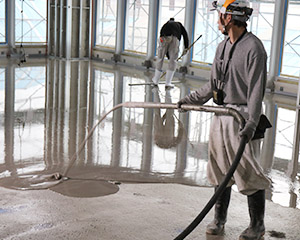 Overview
The SL FLOW G system kneads and mixes powder at the construction site and provides the customer with only the required amount of slurry. The system uses a rapid hardening, rapid drying cement-type self-leveling material that can be employed to create a flat floor by simply smoothing it out with a flat rake, trowel, or other such tool. It supports construction thicknesses between 8 and 50 mm, and it is widely used as a flat material for the substrate conditioning for sheet flooring of concrete floors in general buildings, condominiums, schools, hospitals, and other locations.
The shrinkage factor has been greatly reduced (approximately one-third of the quality standard level).
The achievement of remarkably fast hardening allows for light walking approximately four hours after work (standard schedule).
The rapid decrease in water content enables finishing material work at an early stage.
Since the system only kneads, mixes, and provides the necessary amount of powder at the construction site, it is economical and there are no deficiencies or excesses of material.
There is no need to arrange for an on-site mortar pump (a dedicated tanker with a mixer, pump, and hose).
Product Line
SL FLOW G
Packaging
Sale of slurry