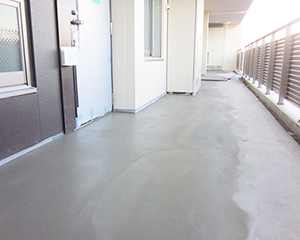 Overview
The same type of self-leveling construction work can be done outdoors as well as indoors. This material can be used to prepare any surface that will be given a water gradient, such as the floor or drain of a condominium's balcony or open corridor, the base layer of a rooftop's waterproofing, and so on.
This is a self-leveling material with a greatly reduced shrinkage factor (approximately one third of the quality standard level).
The achievement of remarkably fast hardening allows for light walking approximately four hours after work (standard schedule).
The speed of the decrease in water content enables finishing material work at an early stage.
Can be used to construct a gradient of around 1/100.
Can be used as the base material under sheet flooring and urethane-based waterproof coating.
*Since this product is material for substrate conditioning, it cannot be used for finishing applications.
Product Line
Outdoor Floor Leveler G
Packaging
Paper bag containing 25 kg