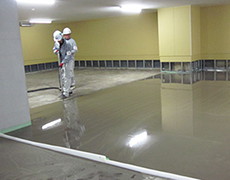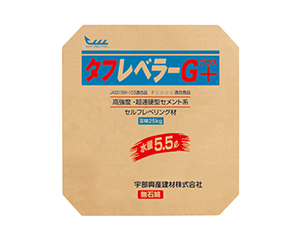 Overview
This self-leveling material offers a higher strength than ordinary products, making it a high-fluidity and ultra-rapid hardening material that can be applied as a load-resistant floor or as a base material for a coated floor.


Load resistant power is secured with a compressive strength of 42 N/mm2, much higher than that of ordinary products.
This is an ideal base material for use in factories, warehouses, parking lots, and other locations where forklifts and other heavy vehicles operate.
As the UBE self-leveling material that dries the fastest, Tough Leveler G+ is suitable for use in emergency construction.
This material can be used to finish the foundation of an indoor parking lot or bicycle parking lot.
It can be used under a diverse range of finishing materials, such as sheet flooring and coated floors.
High fluidity gives this material outstanding self-leveling performance, and improvements in level accuracy can be expected, and with fewer workers.
Product Line/Packaging
Tough Leveler G+
Paper bag containing 25 kg
Sale of slurry